I've had a Trident-9 since 2006. Since then, most manufacturers have gone to designs that can be disassembled. And while the (aftermarket) option exists to have my can made user-serviceable, I've never done anything with it. It is just like it was when I first bought it.
I haven't ever shot any bare lead or rimfire anything through the can. I shoot 9mm and .38 Spl. as well as subsonic 300 Whisper and .357 Mag through it. The majority of the several thousand rounds that have been run through this can have been reloads. Lots of plated stuff, as well as JHP and lead-exposed-base FMJ. It's been used on anything from single-shots, bolt-actions, semi-autos, and machine guns.
It would get quite a bit of buildup of carbon on the blast baffle, which I would occasionally chip off with a small flat screwdriver. Over time I could see similar buildup on the next baffles as well, but could not access them easily. Here's about the worst buildup the blast baffle has ever been allowed to get: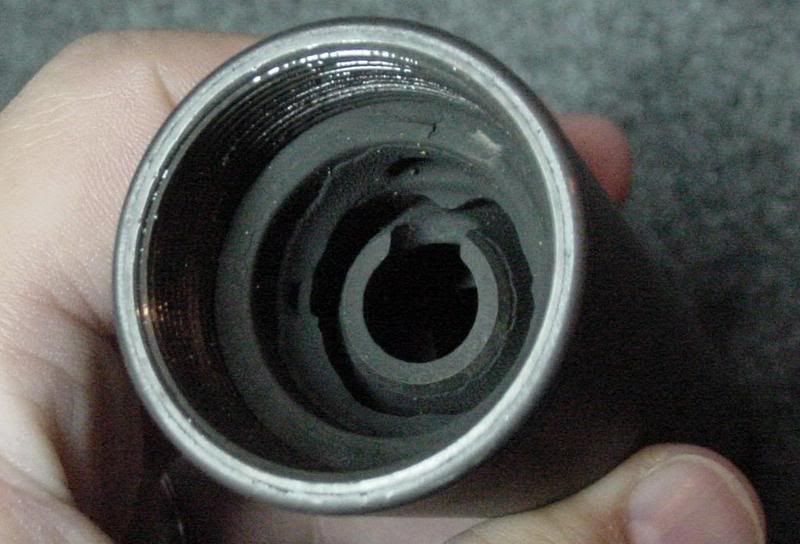 I've used a video borescope to look through the can, but it's difficult to see everywhere I want to with it. We routinely radiograph welds at work - typically of boiler tube and pressure vessel repairs. Occasionally, I'll take the opportunity to have the NDE crew take a couple of extra shots for me.
I had a shot of the can done in early 2010. Some buildup could be seen in the picture. Recently I was able to have the can shot again, with the thought of comparing the two pictures to see how much the buildup had extended. From what you can see below, the difference between doing radiographs on film (2010) vs. on digital imaging plates (2015) is like night and day. The quality of the shot is so much better, it's difficult to really say how much the buildup has progressed.
I can see new buildup in the outer chambers of the 2nd and 3rd baffles. The inward triangle from hole in the side of the 3rd baffle is visible in both pictures.
Maybe I'll get it shot again in another 5 years and see what it looks like. Maybe if I'd been thinking I would have taken note of the orientation of the can, so it could be shot the same way each time.