Hi forum,
I just joined the platform as I was eager to share my impressions about a suppressor widespread across Europe, but not so overseas as I understand. I'm Andy and come from Switzerland - hope you will enjoy my POV on this cool little range-toy!
The suppressor presented in this review is the compact version of the Rotex V produced by B&T. Over here in Switzerland, with regards to cans, we are somewhat fortunate and unfortunate at the same time.
Due to US Export laws, it is impossible to buy anything produced overseas. At the same time we are lucky to have a very good manufacturer such as B&T located here. As a consequence, there is virtually only one brand of suppressors available to us - but thank got a good one!
So what are we talking about exactly? Well the Rotex V compact is a pretty neat little can. The main body is made of Inconel/thermax. While the exact chemical & physical attributes are somewhat obscure to a non-initiated like me, based on my limited understanding it means the can is really really durable.
You can recognize the main body by the colour - it has a gray-ish finish. One thing I've noticed, is that the gray finish does not last that long if you run the can hard. I shot mine quite extensively, and when it gets really hot, it almost seems as the air around it (including dirt) "burns" around the can, thus leading to an overall darker tone for the main body.
The muzzle adapter on the other hand has a black finish and does not change with use. The latter is designed to fit on A2-styled muzzle device. The attachment is a somewhat hybrid QD mount. You are required to fix the lock around the A2 Hider, and then turn the can to fix it tight. It is sort of a QD system, but not quite. I find it an elegant solution to a problem that is typical here in Europe: and that is that many MIL/LE units have different guns. B&T settled for the A2 style, but honestly changing the black adapter means the can may also work on other muzzle devices.
This is a somewhat different approach to the US where you got different cans running proprietary muzzle devices - here you got a can which main body's always the same, but the QD mount can be swapped to fit more muzzle devices. What's better? It depends! I find it good as I can run it on most of my guns as they come with the non-exotic A2 setup.
The performance of the can is hard to measure. It def. Dampens the noise - which given my affinity for SBR's is a big thumbs up. How much compared to other cans is a tough call given the absence of competitors on the market.
The POI shift is not tragic, but noticeable especially with my SCAR. Again, given that I prefer SBR's, it is a minor concern as I zero for 100 yards but usually shoot at closer range. Perhaps it would be a greater issue if I was into long range shooting - which I'm not.
Other than the added weight and POI Shift the only rant I have with this (actually any) suppressor is the extra fouling. I understand it is due to how the suppressor works - beyond the brand. What I do not understand is the consensus around piston guns being better than DI guns. I don't want to tap on the broader debate - but from a purely technical POV, piston guns seem to foul equally bad as DI guns. At least that was my feeling based on limited testing.
Overall I'm really happy with my purchase. Of course it's the only one available to me. however, given that most of the suppressors do about the same job, it ultimately boils down to other factors.
Looks: 5/5
I like the dents at the end of the can, as well as the 2 color combo. It is one of the most recognizable cans out there. I would have bought it even if other brands were available
Flexibility: 3.5/5
It fits any A2 gun, a differed QD mount is needed for more exotic muzzle devices. They are not listed anywhere, but yeah.. I'm a bit pissed that it does not fit on my G36C
Performance: 4/5
Let's be honest, a .223 compact suppressor will not solve world hunger or make any other miracle. It helps with SBR's, that's for sure. Whether your average can is 0.1dB louder or not is irrelevant
Price: 5/5
A really compact Suppressor with good materials available for around 600-700$, surprisingly cheap for
Swiss
Standards.
I have a picture of it attached to some of my guns, as well as a video attached to my SCAR. Best regards!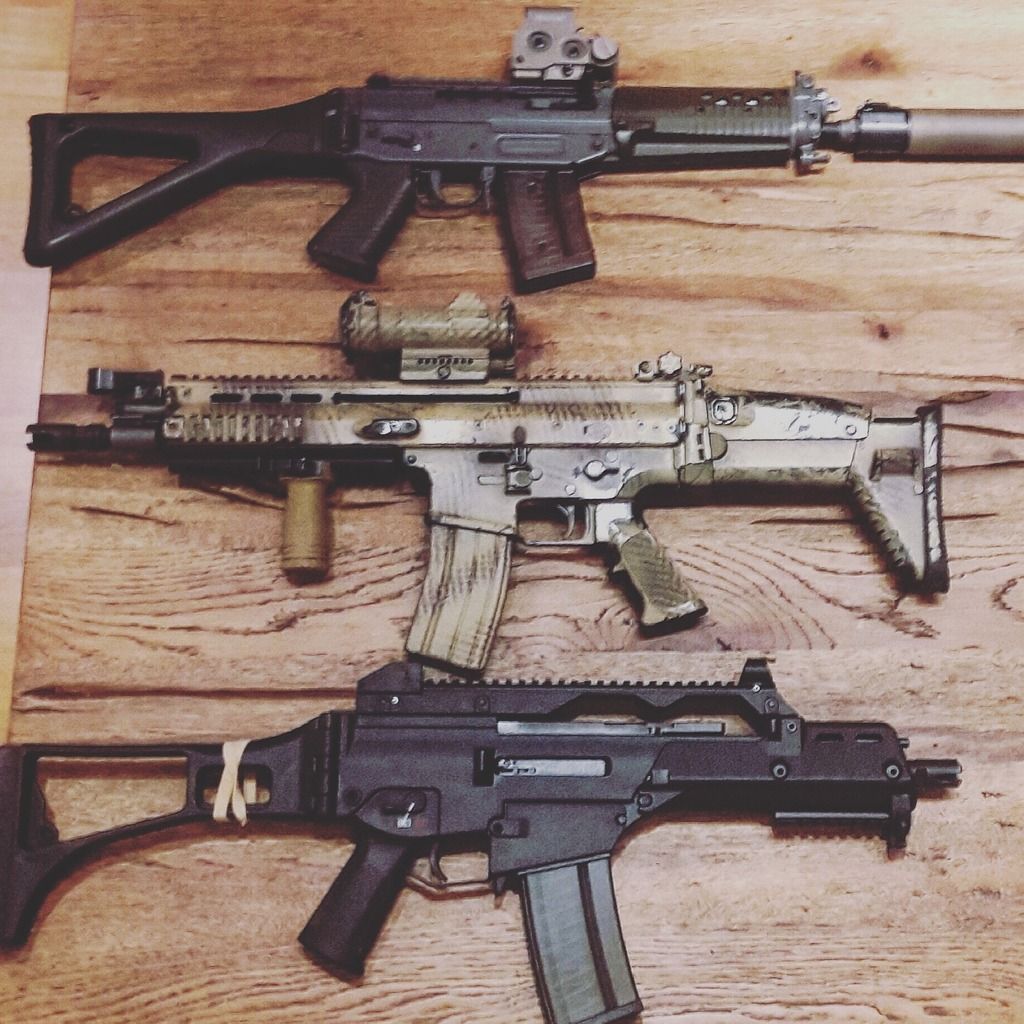 Below a video where there is some shooting with it at the beginning!
https://www.youtube.com/watch?v=6HE4kTF6vdk