Here are some references.
http://www.azom.com/details.asp?ArticleID=1341
http://www.supraalloys.com/astm_grades.htm
I thought it needed to be cleared up that Grade-2 Titanium is not a good material for rifle suppressors. Not only is the strength to weight ratio not significantly better than 304 Stainless Steel, but it also has high-temp issues.
Here are some key facts:
Yield Strength per unit of density (x106N.m.kg-1):
18/8 (300) SS: 68
Grade-2 Ti: 78 (about 14% better than Stainless, but worse at high temps).
Grade-5 Ti: 206 (2.64 times better than Grade-2).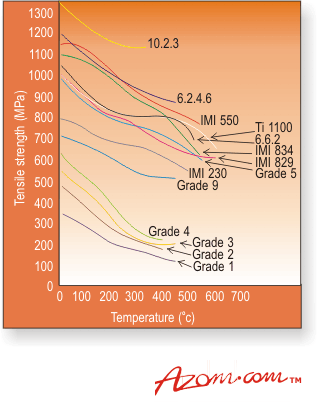 Notice that they only chart Grade-2 out to about 400 degrees C. That is in the 700 degrees F range. If you remember from my SCAR-SD torture test, I brought the can up to 1550 degrees F (on the outside of the tube). A Grade-2 Ti can will fail in as little as one magazine of full auto unless it is made to an unusual thickness.
Grade 23 Ti is a version of Grade-5 which has extra low interstitial for higher facture resistance which makes it ideal for pressure vessels (silencer tubing) while Grade-5 is best for baffles.
Grade-9 has some use.
Grade-2 Ti in a rifle suppressor is a gimmick. In a pistol or subgun suppressor it will allow enough thickness to have nice threading and still be light.
When a silencer company says they are using Titanium, ask what grade it is. If they do not specify, there is a high likelihood it is just Grade-2.