For those in Utah - AMTAC Suppressors is hosting a public demo of their soon-to-be-released rimfire suppressor: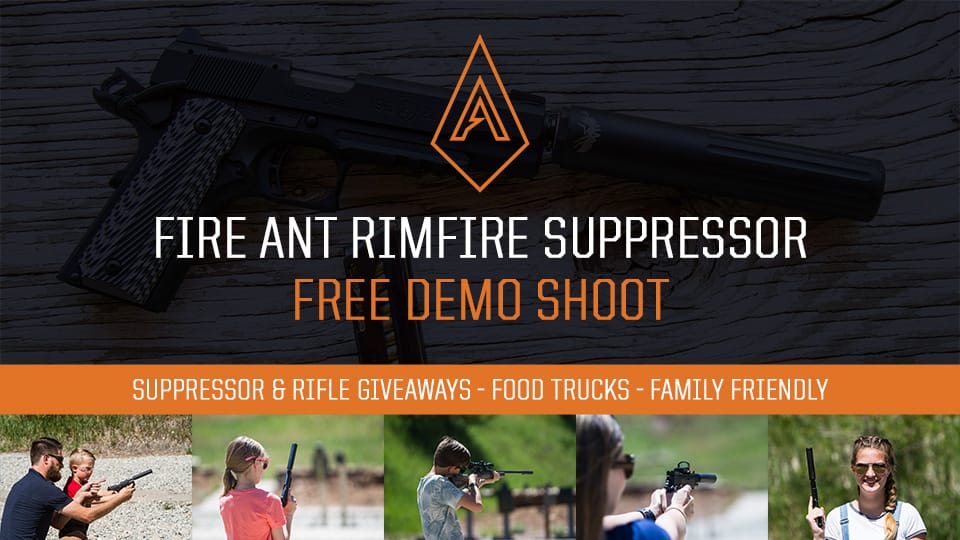 AMTAC Suppressors is releasing the Fire Ant rimfire suppressor and we want you to come see how much fun it is to shoot in silence. PLUS, we're giving away 5 FREE Fire Ant suppressors to event attendees, rifles, and more!
We'll have food trucks including Art City Donuts, World's Best Corn Dogs and Kona Ice—so come shoot, get some lunch, and maybe go home as the proud owner of a new gun or suppressor.
Come early- the first 100 attendees get free donuts from Art City Donuts!
Be one of the first to demo the new Fire Ant suppressor on several host firearms including:
Browning X-Bolt
Browning 1911 .22 Pistol
Ruger 10/22 Takedown Lite
Ruger SR22
Ruger MK IV
Ruger 22/45
FN 5.7
Walther Arms, Inc. P22
Savage Fire Arms 17HMR
AR 57
Smith & Wesson Corp. M&P 15-22
...not to mention portable steel targets from Cittac - Portable Steel Targets.
For more information, all the info is on Facebook: https://www.facebook.com/events/248755985528714/